How Are We Different From the Competition?
We want to be your first choice when it comes to auto care. Let's talk about the SpeeDee Service Difference:
Local Ownership
Most SpeeDee stores are locally owned. They're run by families who service the automotive needs of other families in their communities.
Quality Service
SpeeDee was built on a solid commitment to customer service.
Training and Certification
SpeeDee owners hire ASE-certified technicians for tune-ups, mechanical work and other repair services.
Multi-Point Courtesy Check and Service Review
Every time you bring your vehicle in for a 17-Point Oil Change, we'll also give you a multi-point courtesy check and a service presentation as an added bonus.
Free Top-Off Service
To help keep your car running smoothly and safely, SpeeDee offers a free top-off service for the 3 months or 3,000 miles following any SpeeDee oil change or tune-up service.
Maintenance Records
If you're not sure which services you need or which services you've already completed, don't worry. We'll keep track of your SpeeDee maintenance history and manufacturer's recommended service schedule.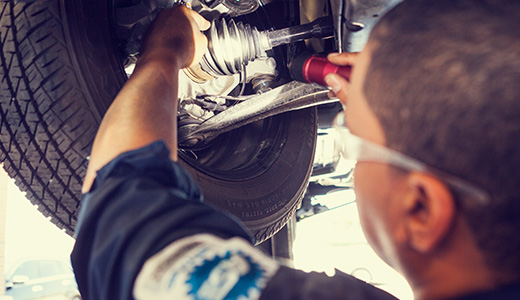 Affordable Rates
Looking for an alternative to your dealership? Compare their prices to ours, and you may find that SpeeDee can perform the services you need at a lower cost.
You Decide
It's our policy to provide you with the information you need to make a decision without pressure or overselling. Visit your local SpeeDee today – no appointment necessary!
The SpeeDee Story
Our first SpeeDee Oil Change opened in December 1980 in Metairie, Louisiana. Back then, automotive service stations were on the decline, but drivers' needs for oil change service was on the rise. That's where we came in.
SpeeDee swiftly grew into a quick lube and automotive tune-up service business and became SpeeDee Oil Change & Tune-Up to reflect these new service additions. Store numbers also multiplied as franchise opportunities opened.
By the mid-90s, SpeeDee had added complete brake service and grown to a full-service auto maintenance and repair facility.
In April 2008, the SpeeDee Oil Change & Tune-Up franchise became a subsidiary of Midas International Corporation. In 2008, Midas International Corporation and SpeeDee began a co-branding strategy that provided consumers with the three most frequent vehicle maintenance services – oil changes, brakes and tires.
In 2013, SpeeDee Oil Change & Tune-Up became SpeeDee Oil Change & Auto Service® to better reflect the wide array of services available to customers.
In February 2017, SpeeDee became a subsidiary of Grease Monkey International LLC, providing franchisees with the opportunity to be part of one of the nation's largest independent franchisors of automotive fast lube centers.
For 40 years, SpeeDee has built trusted customer relationships based on reliability and professional service and grown from a single store to more than 150 locations. SpeeDee Oil Change & Auto Service® is committed to earning your trust by providing you with the expertise, value and responsiveness you expect … every time you visit us.